1. Metallica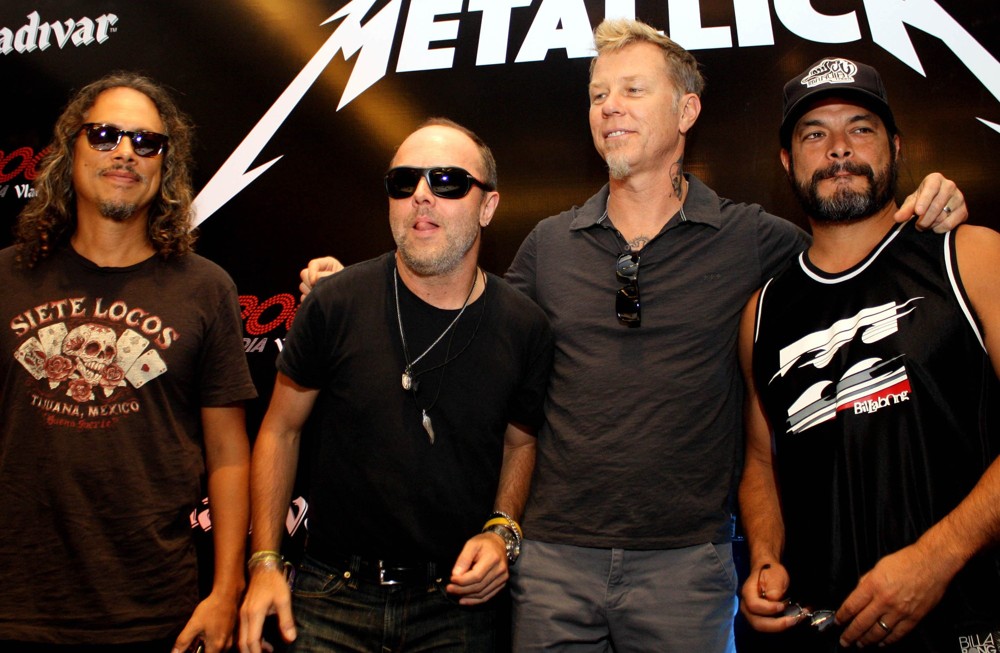 Metallica is an American heavy metal band from Los Angeles, California, formed in 1981. Founded when drummer Lars Ulrich posted an advertisement in a local newspaper, Metallica's line-up has primarily consisted of Ulrich, rhythm guitarist and vocalist James Hetfield, and lead guitarist Kirk Hammett, while going through a number of bassists. Currently, the spot is held by Robert Trujillo.
Metallica's early releases included fast tempos, instrumentals, and aggressive musicianship that placed them as one of the "big four" of the thrash metal subgenre alongside Slayer, Megadeth, and Anthrax during the genre's development into a popular style. The band earned a growing fan base in the underground music community and critical acclaim, with the 1986 release Master of Puppets described as one of the most influential and "heavy" thrash metal albums. The band achieved substantial commercial success with Metallica (1991), which debuted at number one on the Billboard 200. With this release the band expanded its musical direction resulting in an album that appealed to a more mainstream audience.
In 2000, Metallica was among several artists who filed a lawsuit against Napster for sharing the band's copyright-protected material for free without the band members' consent. A settlement was reached, and Napster became a pay-to-use service. Despite reaching number one on the Billboard 200, the release of St. Anger alienated many fans with the exclusion of guitar solos and the "steel-sounding" snare drum. A film titled Some Kind of Monster documented the recording process of St. Anger.
Metallica has released nine studio albums, two live albums, two EPs, twenty-four music videos, and forty-five singles. The band has won nine Grammy Awards, and has had five consecutive albums debut at number one on the Billboard 200, making Metallica the only band, other than the Dave Matthews Band, to do so. The band's 1991 album, Metallica, has sold over 15 million copies in the United States, and 22 million copies worldwide, which makes it the 25th-highest-selling album in the country. The band has sold an estimated 100 million records worldwide as of the release of their latest album, Death Magnetic. As of September 2008, Metallica is the fourth highest-selling music artist since the SoundScan era began tracking sales on May 25, 1991, selling a total of 51,136,000 albums in the United States alone.
2. Iron Maiden
Iron Maiden is a Hard Rock band from the late 60s from Basildon, Essex, England.
History
In 1964, Barry Skeels, Steve Drewett, Chris Rose and Alan Hooker formed an acoustic band in Basildon, Essex, that eventually evolved into a band called Iron Maiden (unrelated to the currently famous Iron Maiden). By 1966, the lineup was Skeels on bass, Drewett on vocals/harmonies, Rose on lead guitar, Tom Loates on rhythm guitar and Stan Gillem on drums; they played Rolling Stones and blues numbers under the name "Growth". Reduced to a two-piece, Drewett and Skeels played blues under the name of "Stevenson's Blues Department" in pubs and clubs in Essex and London. They supported a number of up and coming bands including Jethro Tull, Fleetwood Mac, The Groundhogs and King Crimson.
In 1968, Drewett and Skeels were joined by Paul Reynolds on drums and Trevor Thoms on guitar. They released an acetate (God of Darkness/Ballad of Martha Kent) under the then risqu? name of Bum. When they signed to the Gemini label in 1970, the name was changed to the less risqu? Iron Maiden. They recorded their debut album, Maiden Voyage, but it was not released. Reynolds was replaced by Steve Chapman on drums and Iron Maiden released the single Ned Kelly/Falling. This coincided with Mick Jagger's film Ned Kelly. A planned Australian tour fell through. The Gemini record label also folded (with the loss of the debut album master tapes) and Skeels left Iron Maiden. The band carried on without him for a while, but the debut album was not released until 1998 using duplicate tapes, pictures & press cuttings owned by Skeels.
Skeels moved to Newcastle upon Tyne in the mid-80s, where he soon joined local big name blues band "The Blues Burglars". During this time he met Venom. He left the Burglars when he was asked to help out as bass tech for Venom which lasted a number of years. He later became guitar and bass tech and then tour manager for a number of bands. After 12 years on the road Skeels joined Venom's management's new venture, Demolition Records in A&R. Soon they were signing established rock acts which provided Skeels the opportunity to move on into management and he formed Offbeat Management, taking on the original folkmetal band, Skyclad, also based in Newcastle. Skeels is currently still playing, in two bands, soul/funk/R&B group Ambience UK and back to his blues roots in blues/R&B/light rock group Black River Band
3. Avenged Sevenfold
Avenged Sevenfold is an American rock band from Huntington Beach, California, formed in 1999. The band has achieved mainstream success with their 2005 album City of Evil, which included singles such as "Burn It Down", "Bat Country," "Beast and the Harlot" and "Seize the Day." The band's success followed with their self-titled album, with singles such as "Critical Acclaim", "Almost Easy", "Afterlife", "Scream" and "Dear God".
Please Download Avenged Sevenfold Full Album 2001-2010 in here
4. X Japan




X Japan Ekkusu Japan) is a Japanese band founded in 1982 by Toshimitsu "Toshi" Deyama and Yoshiki Hayashi. Originally named X (), the group achieved its breakthrough success in 1989 with the release of their second album Blue Blood. They started out as a power/speed metal band and later gravitated towards a progressive sound, at all times retaining an emphasis on ballads. After three more albums, X Japan disbanded in 1997.
Besides being one of the first Japanese acts to achieve mainstream success while on an independent label, the group is widely credited for pioneering the visual kei movement, though most of the group's members toned down their on-stage attire in later years. They were formerly known for their excessively large hairstyles resembling fountains. As of 2007, the band has sold over twenty million records and over two million home videos.
On 4 June 2007 it was announced the band would reunite with a new song released via digital download in January 2008 and live performances scheduled for March and May.



5. Megadeth





Megadeth is an American heavy metal band from Los Angeles, California, formed in 1983. Founded by Dave Mustaine following his departure from Metallica, the band has since released twelve studio albums, six live albums, two EPs, twenty six singles, thirty-two music videos, and three compilations.
As a pioneer of the American thrash metal movement, Megadeth rose to international fame in the 1980s, but experienced numerous line-up changes, due partly to the band's notorious substance abuse problems. From 1983 to 2002, Mustaine and bassist Dave Ellefson were the only continuous members of the band. After finding sobriety and securing a stable line-up, Megadeth went on to release a string of platinum and gold albums, including the platinum-selling landmark Rust in Peace in 1990 and the Grammy nominated, multi-platinum Countdown to Extinction in 1992. Megadeth disbanded in 2002 after Mustaine suffered a severe nerve injury to his left arm. However, following extensive physical therapy, Mustaine reformed the band in 2004 and released The System Has Failed, followed by United Abominations in 2007; the albums debuted on the Billboard Top 200 chart at #18 and #8, respectively. Megadeth, along with their new lead guitarist Chris Broderick, released their twelfth studio album, titled Endgame, on September 15, 2009.
Megadeth is known for a distinctive guitar style, often involving complex, intricate musical passages, and trade off guitar solos. Mustaine is also known for his original "snarling" vocal style, as well as his recurring lyrical themes, often involving politics, war, addiction, and personal relationships.
Megadeth has had commercial success worldwide and has sold more than 20 million albums, with six consecutive albums being certified platinum in the USA. The band has also received great critical acclaim with seven consecutive Grammy nominations for Best Metal Performance. In the band's 24 active years, Megadeth has had 20 official members, with Dave Mustaine remaining as the driving force, main songwriter, and sole original member following the end of his musical partnership with David Ellefson in 2002, due to personal disagreements. In the mid-late 1980s, Megadeth are one of the "Big Four of Thrash," along with Metallica, Slayer, and Anthrax, who were responsible for creating, developing and popularizing the thrash metal sub-genre.



6. Slipknot





There are nine members of slipknot ranging from 0-8.
Sid Wilson is number zero and he runs the turntables.
Joey Jordison is number one and he is their drummer. He was born on April 26, 1975. He got his first drum set in fifth grade. He was the one that created the Slipknot S logo. He was orgianlly the guitarist for his previous band ,called the Murderdolls, and he was in a band named Anal Blast. He was the one that thought of refering to their fans as 'maggots'.
Paul Gray is number two and he plays the bass guitar.He is a co-founder of Slipknot. Paul is half black.
Chris Fehn is number three and he is their custom percussionist. He was born on February 24, 1974. He is considered to be the comedian of the group. He was in the band Shed before he was recruited into Slipknot. He also does alot of the backup vocals. His nose is 7 inches long.
Jim Root is number four and he is their guitarist. He was born on October 2, 1971. He used to be a very timid guy until he became a part of Slipknot. He was in the newly revived band Stone Sour, along with the bands Dead Front and Atomic Opera. Most people refer to him as James.
Craig Jones is number five and he does their samples and media stuff. He was born in 1972 and his nickname is 133 MHz. He was orginally their guitarist, but later switched to samples and media. The clip 'the whole thing i think is sick' was cut from a documentary on Charles Manson. 'here comes the pain' comes from a movie staring Al Pacino called, 'Carlito's Way'
Shawn Crahan is number six and he is another custom percussionist. He was born on September 24, 1969. He is the co-founder of Slipknot. He is an Executive producer for both Mudvayne and 40 Below Summer. He was the one that originally thought of using masks to make them stand out. He is the oldest member of the group and he does some backup vocals.
Mick Thomson is number seven and he is a guitarist. He was born on November 3, 1973. He is fascinated by serial killers and he is shorter than most of the band.
Corey Taylor is number eight and he mainly does their vocals. He was born on December 8, 1973. His nickname is 'Faith' and he used to work in a porn shop. His porn shop was where he was recruited for Slipknot. He has at least one baby. His baby's name is Griffin Parker Taylor who is nicknamed 'Itty Bitty Mouth'. The Dreadlocks on Corey's Mask are made from his real hair.
S.I.C. is an acronym for 'said in content'
One day Shawn Crahan and Anders Colsefini (who would later do Slipknot's vocals for a short time) were good friends and were just hangin' out when they got the great idea of creating a band. Crahan called Paul Gray first off, who called Joey Jordison from Paul's previous group, Anal Blast. Then they called in Donnie Steele from the band Cody's Pit and Josh Brainard from Modifidious.
Corey Taylor is pegged as the crazy guy on stage but in actuality, he is a calm sensible guy. The true wild one is Shawn Crahan. He loves to get into fights, be wild on stage, and bang his head on walls. Mick Thomson was a guitar teacher before he joined Slipknot. Craig Jones wrote the first song to their second album in under an hour. Chris Fehn is the one on their second album that threw up on the Ghost track. Joey Jordison is the shortest member of Slipknot.
The nine-member hard-core metal outfit Slipknot formed in the self-proclaimed 'middle of nowhere'– Des Moines, Iowa — in 1995. Asserting that they are 'not about our names or our faces,'members DJ Sid Wilson, drummer Joey Jordison, bassist Paul Gray, percussionist Chris Fehn, guitarist Jim Root, sampler Craig Jones, percussionist Shawn Crahan, guitarist Mic Thompson and vocalist Corey Taylor have taken numbers 0-8 as stage names and don bizarre homemade masks for shows, photos shoots, and interviews.
Slipknot self-released a CD in 1996, Mate, Feed, Kill, Repeat, before signing with Ross Robinson's I Am Records, an imprint of Roadrunner. Their label debut, Slipknot, was released in 1999 with their latest, Iowa, following two years later.
Slipknot is a nu-metal band featuring nine members which makes them quite a unique band with 3 percussionists, 2 guitarists, 1 bassist, a DJ, a sampler and a lead singer. Trying to distinguish themselves more they have named themselves by using the numbers 0-8 and have been using bright costumes and masks on stage. The band formed in 1995 and was originally called Meld before changing their name in Spring / Summer of 1996. In 1999 they released their self-titled debut album which made them rather famous right away.
The well known 'slipknot barcode' is the barcode from their first album 'mate,feed,kill,repeat' and the numerical sequence from that barcode is the same as the title to the 1st track on their self titled cd.
In May 2004, Slipknot released their 3rd commercial album with the daring Vol.3 (The Subliminal Verses). This has brought them under scrutiny from some of their more shallow fans, who say they have abandoned metal and gone softy, due to the fact that there are a couple of acoustic ballads on this album. Corey Taylor has said this is Slipknot's last album before calling it quits, saying 'Tell me how I'm supposed to be excited about a band that's eating itself.' They will be on the second stage at Ozzfest 2004.



7. Judas Priest


udas Priest, a leather-clad heavy-metal band, was formed by guitarist K.K. Downing and bassist Ian Hill. In 1971 frontman Rob Halford joined (he'd previously worked in theatrical lighting), having met Hill, whom his sister was then dating (and later married). The band didn't get a contract until 1974, just after guitarist Glenn Tipton joined. Its first LP was released that year, but both it and the 1976 follow-up, Sad Wings of Destiny, sold marginally.
The band to develop a following in England, and in 1977 Priest signed with Columbia, which released Sin After Sin. Produced by ex-Deep Purple bassist Roger Glover, Sin featured guest drummer Simon Phillips and an unlikely heavy-metal version of Joan Baez's "Diamonds and Rust," similar in style to Nazareth's 1973 treatment of Joni Mitchell's "This Flight Tonight." The group's songs, highlighted by Tipton and Downing's dual lead-guitar attack, were catchier and shorter than most other early-'70s heavy metal, anticipating late-decade acts like Def Leppard.
Stained Class (#173, 1978) featured new drummer Les Binks, replaced with ex-Trapeze member Dave Holland after Priest's live-in-Japan Unleashed in the East (#70, 1979). The live LP included a version of Fleetwood Mac's "Green Manalishi." Over the years Judas Priest became increasingly known for its extravagant live show, which featured Halford, in his trademark S&M gear, thundering onstage on a Harley Davidson motorcycle. The band's seventh album, 1980's British Steel (#34), was its first U.S. Top 40 entry, and a heavy metal landmark. Concise songs like "Living After Midnight" and "Breaking the Law" mated metal aggression with new-wave melodicism. Both went Top 20 in Britain.
The 1981 follow up, Point of Entry (#39, 1981), failed to build on the band's momentum, but the platinum Screaming for Vengeance (#17, 1982) broke Judas Priest in a big way stateside, and gave the group its closest thing to an American hit single, "You've Got Another Thing Comin'" (#67, 1982). The song's stylish video showed Priest performing on a laser-lit stage while a conservative business type outfitted in a trench coat and bowler hat appears to be fleeing some unseen, sinister force. At the clip's end, Tipton and Downing's guitars explode —as does the character's head, literally —leading to a powerful climax.
In 1986 Judas Priest became the unwitting object of controversy when the parents of two mentally unstable Reno, Nevada teenagers sued both the group and Columbia Records for $6.2 million, claiming that a song on 1978's Stained Class contained subliminal messages that drove their sons to shoot themselves in 1985. One died instantly; the other lived but overdosed fatally on methadone three years later. Priest was acquitted of all charges in the six-week 1990 trial. The gold Painkiller came out shortly thereafter.
Halford, who'd relocated to Arizona in the early '80s and then moved to San Diego in 1999, abruptly quit Judas Priest in December 1992 to form his own band, the grungy Fight, which was active in the mid-'90s. (Scott Travis, Priest's drummer since 1990, assisted him, but remained in Judas Priest). Later in the decade, Halford led the industrial Two, which signed to Trent Reznor's nothing label. He also briefly fronted a post-Ozzy Black Sabbath, and collaborated with Pantera. In 1998 he obliterated many a metal stereotype (and confirmed years' worth of rumors) by openly announcing his homosexuality. In 1999 he returned to metal under the name Halford and parted ways with nothing.
Tipton released a solo album in 1997. The four remaining members of Judas Priest auditioned vocalist Tim "Ripper" Owens, a longtime fan who had fronted a JP tribute act. He joined his idols after singing only a portion of one song. The group's first album sans Halford, Jugulator, peaked at #82 in 1997.




8. Black Sabbath

Black Sabbath are an English rock band, formed in Birmingham in 1968 by Ozzy Osbourne (lead vocals), Tony Iommi (guitar), Geezer Butler (bass), and Bill Ward (drums and percussion). The band has since experienced multiple lineup changes, with a total of twenty-two former members. Originally formed as a heavy blues-rock band named Earth, the band began incorporating occult- and horror-inspired lyrics with tuned-down guitars, changing their name to Black Sabbath and achieving multiple gold and platinum records in the 1970s. As one of the first and most influential heavy metal bands of all time, Black Sabbath helped define the genre with releases such as 1970's quadruple-platinum Paranoid. They were ranked by MTV as the "Greatest Metal Band" of all time, and placed second in VH1's "100 Greatest Artists of Hard Rock" list, behind Led Zeppelin. They have sold over fifteen million records in the United States alone.
Vocalist Ozzy Osbourne's drinking led to his firing from the band in 1979 and was replaced by former Rainbow vocalist Ronnie James Dio. After a few albums with Dio's vocals and his songwriting collaborations, Black Sabbath endured a revolving lineup in the 1980s and 1990s that included vocalists Ian Gillan, Glenn Hughes, Ray Gillen and Tony Martin. In 1992, Iommi and Butler rejoined Dio and drummer Vinny Appice to record Dehumanizer, an album which stands to be Black Sabbath's heaviest album to date. The original lineup reunited with Osbourne in 1997 and released a live album, Reunion. The early/mid 1980s line-up featuring Iommi, Butler, Dio, and Appice reformed in 2006 under the title, Heaven & Hell.



9. Disturbed 

"Disturbed" is an American rock band from Chicago, Illinois. The group was formed in 1996 when musicians Dan Donegan, Steve 'Fuzz' Kmak, and Mike Wengren hired singer David Draiman. Since the band's formation, they have sold over 10 million albums worldwide, and released three consecutive #1 albums, making them one of the most successful rock bands in the recent years. More notably, only six other rock bands have released three number one albums in a row: Van Halen, Pearl Jam, U2, Dave Matthews Band, Staind, and Metallica.
Originally classified as a nu metal band, they are now regarded as alternative metal. However, the band's genre is still being debated. When asked about die-hard heavy metal fans not finding Disturbed heavy enough, frontman David Draiman stated:
We probably have too much melody going on or we're not quite as turbulent or caustic. While I really love that type of music, it's not what we try to do. If we have to place things in context, we're more hard rock than heavy metal these days.




10. Pantera



HISTORY
Starting in 1983, Pantera released three initial albums (Metal Magic, Projects in the Jungle, and I Am the Night) before life-long members Dimebag Darrell, Vinnie Paul, and Rex Brown ditched singer Terry Glaze in favor of Phil Anselmo with 1988's Power Metal. At the time, Glaze was apparently included in talks to sign with a label fronted by Gene Simmons of KISS, but Terry balked at the contract and he was kicked out of the band. The remaining members then located frontman Phil Anselmo in New Orleans and produced Power Metal, an album which had Phil re-recording some songs originally sung by Glaze, in addition to a few originals. Pantera's style in these first four recordings is best described as hair metal, a popular style of heavy metal music at the time.
The first commercially successful album Pantera recorded was 1990's Cowboys from Hell, which was also their first release not from their own independent record label. The band was turned down "28 times by every major label on the face of the Earth"[2] until Mark Ross, an Atco Records representative, saw the band perform while stranded in Texas due to Hurricane Hugo. At this point, Pantera's music was still heavily influenced by "classic heavy metal," with Rob Halford-style vocals and more complex riffs and solos of guitarist Dimebag Darrell, though the album also began showing a much more extreme style than previous efforts. Cowboys from Hell, which nearly abandoned all of their previous hair metal sound, marked a critical juncture in the band's history; most fans, along with the band itself, consider it to be Pantera's "official" debut.This release includes the popular songs "Cemetery Gates," a brooding seven-minute piece that focuses on death and religion, and the thrashing title track, which gives the band their nickname and personality as "Cowboys from Hell."
Pantera's unique "power groove" style (referring to songs composed primarily of groove-oriented riffs) came to fruition in their breakthrough album Vulgar Display of Power (1992), which saw the replacement of the falsetto vocals with a more hardcore-influenced shouted delivery and a much heavier guitar sound. While some critics point to the rise of grunge as the subsequent downfall of hair metal, others claim Pantera, most notably on Vulgar Display of Power, as being the catalyst that overpowered popular '80s metal. Among critics and fans, it is frequently cited as the band's best effort. Songs "Fucking Hostile," a fast, aggressive challenge of authority, the riff-driven "Walk," and the first metal single to debut at #1 on the Billboard charts, "Mouth for War," remain some of the most popular songs in their catalogue.
The extent to which Vulgar Display of Power grew in popularity can be assessed by the instant success of the 1994 follow-up, Far Beyond Driven, which debuted at #1 in both U.S. and Australian album charts – the first metal album ever to achieve this. "I'm Broken," the fourth track on Far Beyond Driven, was nominated for Best Metal Performance at the 37th Annual Grammy Awards. This was all accomplished despite the failing fortunes of metal in America at that time. In this release, Pantera took an even more extreme direction with their musical style.
Pantera's next album, The Great Southern Trendkill, was released in 1996 during the height of grunge rock and the emergence of rap metal. The album saw moderate success, especially considering the time at which it was released; it is often considered Pantera's "overlooked" album. Phil Anselmo recorded the vocals for this release in the studio of famous Nine Inch Nails frontman Trent Reznor. In comparison to the band's previous efforts, there was a much heavier emphasis on vocal overdubbing in a somewhat "demonic" fashion. Drug abuse is a popular theme in The Great Southern Trendkill, as exemplified by tracks like both parts of "Suicide Note" and "Living Through Me (Hell's Wrath)." Perhaps the most popular song from Trendkill is "Drag the Waters," which advises the listener to take the motives of others with a grain of salt. "Drag the Waters" is the only song from Trendkill to be made into a music video, and likewise, the only track from the album to appear on their compilation album.
Some of the band's live performances were eventually compiled in their 1997 release, Official Live: 101 Proof. Aside from fourteen live tracks that appear in their first four studio albums (if starting from Cowboys from Hell), the compilation features two new studio-quality songs: "Where You Come From" and "I Can't Hide." Some tracks have slightly different titles then their originals (i.e., "Hostile" instead of "Fucking Hostile"), while a track like "Dom/Hollow" ("Domination" and "Hollow," respectively) merged two previously written songs together for their live performance version.
Pantera's final album (released in 2000) is titled Reinventing the Steel, and has several songs that deal with the topic of the band itself. Reinventing the Steel, debuting at #4 on the Billboard 200, includes the singles "Goddamn Electric" and "Revolution is My Name," of which the former's lead was recorded by Kerry King of Slayer during Ozzfest in Dallas. "Revolution is My Name" was also nominated for a Best Metal Performance Grammy at the 2001 Awards.
PERSONALITY AND INFLUENCES
Pantera has toured with Ozzfest as main stage acts twice; they played at the second annual Ozzfest in 1997 and the fifth Ozzfest in 2000. Throughout the band's career, they developed into legendary status on tour. They became known for their excessive partying and debauchery, even acquiring an official drink called the "Black Tooth."
Pantera also adopted a self-described "take no shit" attitude, epitomized in their popular song "5 Minutes Alone" off of Far Beyond Driven. According to drummer Vinnie Paul, during a show in San Diego, a man in the front row was heckling vocalist Phil Anselmo. Anselmo, becoming annoyed, incited the crowd to "jump [his] ass and beat the shit out of him on the spot." Consequently, the band was sued; the man's father took action and called Pantera's manager, saying, "You just give me five minutes alone with that Phil Anselmo guy and I'll show him who's big daddy around here." Thus, "5 Minutes Alone" was born out of that experience.
The band takes pride in what they perceive to be an uncompromising career in which they never "sold out" or gave into trends. This is most noticeably highlighted in the themes (and the title) of The Great Southern Trendkill. On their official Web site, Anselmo puts it in his own words:
We've survived every fucking trend. Heavy metal, grunge metal, funk metal, rap metal – and we're still here. We put everyone on notice that we don't fuck around. Our fans know we're true right down to the fucking core.
Similarly, the die-hard attitude of "We'll Grind That Axe For a Long Time" (off of Reinventing the Steel) is, according to Anselmo, "in a way, our motto."
Aside from their thrash metal influences, Pantera cite heavy metal pioneers Black Sabbath as one of their favorite bands. As a tribute, Pantera has recorded three different covers of Black Sabbath songs (all from the Ozzy Osbourne era). The first was "Planet Caravan" (from Paranoid), a slower, quieter song that appeared as Far Beyond Driven's final track; quite a change from the rest of the songs on that album. Pantera originally planned on putting "Planet Caravan" on the first Sabbath tribute album, Nativity in Black, but due to legal issues, they were forced to place it on Far Beyond Driven. However, as the second Nativity in Black was being planned, Pantera got another chance to record a Sabbath cover. They subsequently produced "Electric Funeral" (also from Paranoid), and managed to appear on Nativity in Black II: A Tribute to Black Sabbath. Finally, for their 2003 compilation album, The Best of Pantera: Far Beyond the Great Southern Cowboys' Vulgar Hits!, Pantera covered the Black Sabbath song "Hole in the Sky" (from Sabotage).
CRITICISM
Pantera has come under criticism within the heavy metal world in relation to New Orleans groove metal band Exhorder. Some fans have accused Pantera of stealing from Exhorder the groove metal sound that they became famous for. While Pantera's style change on Cowboys from Hell was released before Exhorder's debut, Slaughter in the Vatican, the band self-released two demos in the late '80s that a number of fans believe to be the real birth of the musical style that Pantera popularized.
The All Music Guide points to several elements of Exhorder's debut that could potentially explain their lack of success in relation to Pantera. In disagreement with the opinion that Exhorder is "Pantera minus the good songs," AMG's review of Slaughter in the Vatican expresses that "perhaps a more accurate billing would be to call them Pantera without the major label backing." They also point to the fact that the title of their debut, along with the unsubtle album cover, "certainly didn't help [their] cause any."
However, some fans and critics dispute any notion that Pantera "stole" Exhorder's sound. Brian Davis, a contributor to Internet radio station KNAC, addresses the issue as follows:
Exhorder's main "claim to fame" is the common opinion that they're the band that Pantera stole their sound from. That's total bullshit. There are minor similarities in guitar style, and on occasion, vocalist Kyle Thomas spits out a line or scream that will bring Pantera to mind, but to go so far as to say that Pantera is an Exhorder clone is ludicrous.
It is unlikely that a definitive answer to the question of whether or not Pantera "stole" Exhorder's sound will be within reach any time soon.
BREAK-UP
Around 2001, Pantera dissolved after Anselmo left the band to pursue other work with such bands as Down, though the Abbott brothers did not officially end the band until they began work on their new project New Found Power. Similar to the circumstances when Rob Halford left Judas Priest, the remaining members held out for a time, assuming that he would return to the group, but this never occurred. However, according to Anselmo, taking a break from Pantera was a "mutual thing" between each of the band members.
Anselmo instead decided to carry on full time with one of his (several) side bands Superjoint Ritual, who have, as of 2003, released two albums. Following the release of the second Superjoint Ritual album, Vinnie Paul (Abbott) and Dimebag Darrell (Abbott) formed New Found Power which was later renamed Damageplan.
The break-up of the band was not amicable and subsequently a war between Superjoint and Damageplan was waged via the heavy metal and musical press. Among the accusations thrown were that Anselmo and the Abbott brothers had difficulties in agreeing upon the direction in which they wanted Pantera's music to go in. Vinnie Paul and Dimebag later commented that Anselmo was forcing them to make the music that Anselmo wanted to make, and that they were not allowed to experiment and take chances with their recordings. In addition, Anselmo's drug habits (for example, a rather infamous heroin overdose during a show) are known to have caused some turmoil within the band. Finally, likely as a result of the other issues Pantera faced internally, the relationship between Anselmo and the Abbott brothers was rapidly deteriorating in general. Caught up in the torrent was bassist Rex Brown, who ultimately aligned himself with Anselmo, joining him on the second Down album – A Bustle in Your Hedgerow.
In December of 2004, a crazed Pantera fan named Nathan Gale shot and killed Dimebag Darrell at the Alrosa Villa in Columbus, Ohio as Damageplan took the stage. An audience member, a club employee, and a member of the band's security entourage were killed before Gale was shot dead by police officer James Niggemeyer. (For more on the shooting, see Dimebag Darrell.)
After Dimebag's death, a Pantera reunion has of course become impossible, but public comments made by Phil Anselmo following the shooting suggest that he had considered reuniting with the band.


Courtesy : top tens