5 July 2022
Comments Off

on These Are the 10 States
with the Most Monkeypox Cases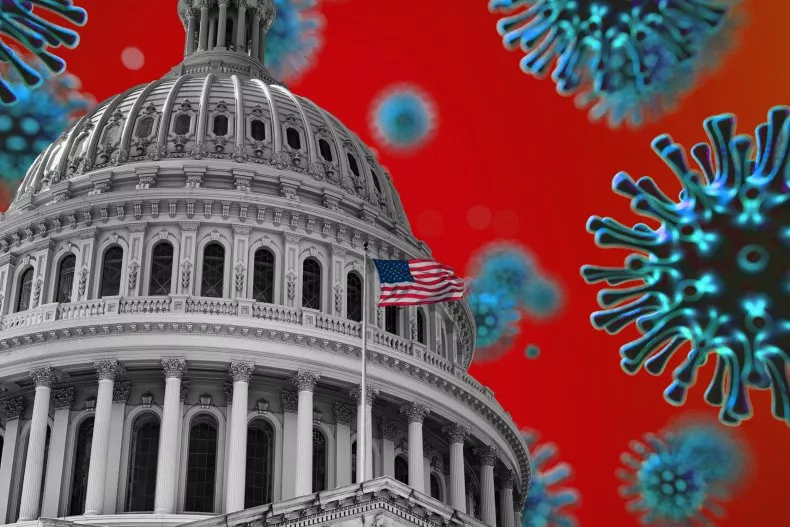 Monkeypox has now been found in 31 U.S. states, as well as Washington D.C., as part of an outbreak that has seen over 5,700 confirmed cases worldwide across 52 countries. That's according to data from the U.S. Center for Disease Control and Prevention (CDC).
Monkeypox is a virus originally passed to humans from animals and usually seen in Central and West Africa. However, it is currently spreading in populations within non-endemic countries across the world, including rapidly in Europe and North America. Symptoms may include fever, headaches, muscle aches, swollen lymph nodes and exhaustion, followed by a pustulous skin rash that may scar. These symptoms are similar, but less clinically severe, to those of smallpox, which was eradicated in the 1980s.
While some earlier cases have been associated with gay and bisexual men—with many U.S. cases being linked to a single event—anyone of any sexuality can contract the disease, and there is no conclusive evidence at this point in time that monkeypox is definitively a sexually transmitted disease.
According to National Institute of Allergy and Infectious Disease Director Dr. Anthony Fauci, the risk level is still undecided. "I think it would be risky to classify it as low, medium or high," he said in a statement. "Given the numbers, I would not say right now, at this particular point, that it is a 'high risk.' But the numbers may increase, which means we've just got to be careful and pay attention."
The CDC plans to allocate vaccines to states based on case rate, focusing on men who have sex with men. There are two types of vaccine being sent out: JYNNEOS, which is in limited supply in the U.S., and ACAM2000, which there are plenty of in the U.S., but cannot be used in people who have weakened immune systems, skin conditions like atopic dermatitis/eczema, or pregnancy. More JYNNEOS vaccines are expected to arrive in the U.S. in the coming weeks. Patients are fully vaccinated 2 weeks after their second shot of JYNNEOS and 4 weeks after ACAM2000.
The ten states with the highest numbers of cases are California, New York, Illinois, Florida, Massachusetts, Pennsylvania, Texas, Virginia, Georgia and Maryland.
The District of Columbia also has the fifth highest case rate of any municipal region in the U.S.
California
A total of 95 monkeypox cases have now been identified in California, according to the official CDC count as of July 5.
The California Department of Public Health said in a statement: "Monkeypox testing is currently available through 10 public health laboratories in California, but capacity is limited. CDPH is working with partners to identify additional testing laboratories and to increase testing capacity. At this time, we ask that health care providers work with their LHD to determine if patients meet clinical and epidemiological criteria for monkeypox virus testing."
New York
New York has recorded 96 cases of monkeypox as of July 1, with 87 in New York City, 5 in Westchester County, 1 in Sullivan County, 1 in Chemung County, 1 in Rockland County and 1 in Suffolk County. The state is due to receive an initial batch of nearly 6,000 doses of monkeypox vaccine from the federal government.
The New York State Department of Health has warned locals that "based on previous outbreaks of monkeypox around the world, some groups may also be at heightened risk for severe outcomes if they contract monkeypox. This includes people with weakened immune systems, elderly New Yorkers, young children under 8 years of age, and pregnant people."
Illinois
Some 53 monkeypox cases have now been reported in Illinois, as of the CDC count on July 5. The Illinois Department of Public Health is reportedly receiving 1,291 doses of the monkeypox JYNNEOS vaccine for use outside of Chicago, with the Chicago Department of Public Health being allocated a separate 3,200 doses.
Florida
Florida has 51 cases of monkeypox according to the current CDC count. This is occurring in parallel to the recent outbreak of meningococcal disease, which is also primarily affected the LGBTQ+ community in the state.
District of Columbia
Washington D.C has 31 monkeypox cases so far. On June 27, it was announced by Mayor Bowser and DC Health that a limited amount of free monkeypox vaccination appointments would soon be available to eligible District residents, which requires being 18 years of age or older and either being a gay bisexual, and other man who has had multiple sexual partners or any anonymous sexual partners in the last 14 days, a transgender women or nonbinary persons assigned male at birth who have sex with men, or a sex worker.
Massachusetts
Massachusetts now has 23 confirmed monkeypox cases, with eight new cases, all of which are in isolation, being announced by the Massachusetts Department of Public Health on June 30.
Pennsylvania
According to the latest CDC count, Pennsylvania has 14 confirmed cases of monkeypox as of July 5. At least seven of these cases are in the Philadelphia area.
Texas
Some 12 monkeypox cases are currently recorded in Texas, three of whom did not travel in the three weeks before becoming sick, meaning they were exposed in Texas.
"With the sharp increase in monkeypox cases worldwide, it's not surprising to see the virus spread in Texas," said Dr. Jennifer Shuford, chief state epidemiologist, in a news release on June 30. "We want people to know what the symptoms are, and if they have symptoms, to avoid the types of close contact with other people that can spread the disease."
Virginia
Virginia has recorded 11 cases of monkeypox as of July 5, the majority of whom are in the north of the state.
According to the Virginia Department of Health website, "for all reported close contacts of monkeypox cases, VDH will monitor their health for 21 days after their last exposure to a case and, if needed, will coordinate vaccination for high-risk contacts."
Georgia
As of July 5, 11 cases have also been reported in Georgia, increasing since June 20, when the state reportedly only had three cases.
Maryland
Maryland has seven reported cases of monkeypox so far.
"Although human monkeypox is a rare infection in the United States, this Maryland case and other cases in the region and country remind us that we need to be prepared and take steps to prevent infection and its spread," said Maryland Department of Health Deputy Secretary for Public Health Dr. Jinlene Chan in a news release on June 16. "MDH will continue to work with local and federal public health authorities and communicate responsibly with Maryland residents as we learn more."