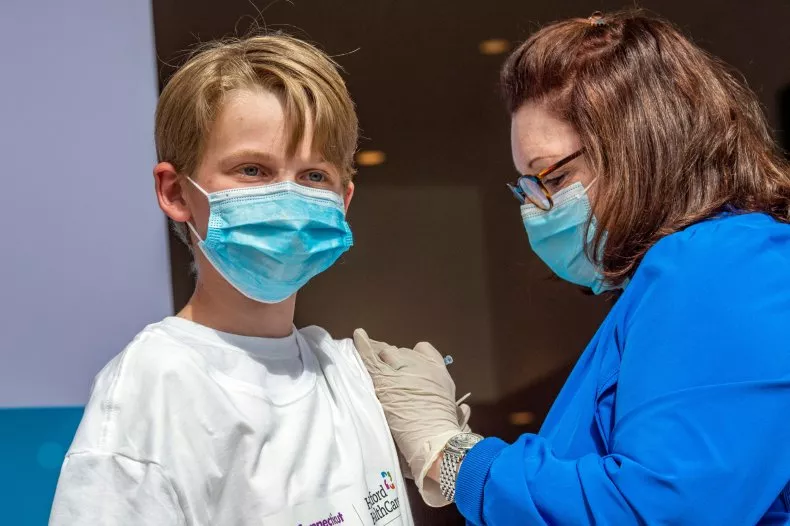 In the past few weeks, the World Health Organization (WHO) has reported an outbreak of hepatitis (inflammation of the liver) in children across the globe including in the U.S., UK, Ireland, Spain, and France.
However, this has fueled speculation on conspiracy websites such as The Expose, purporting a link between the rollout of vaccines and hepatitis.
In an article published on April 22, 2022, The Expose claimed there is evidence that links COVID-19 vaccines to the recent rise in hepatitis cases among children.
The article suggests one such study by Pfizer "proves that the mRNA jab accumulates in the liver causing hepatitis."
The claim has spread on social media alongside pre-existing anti-vaccine or vaccine-skeptic narratives, and not only in English but in Spanish and German, too.
While the scale of the outbreak differs around the world, the World Health Organization (WHO) says it has received reports on a total of 169 cases in 12 countries of the WHO European and Americas regions.
In the U.S., severe hepatitis is suspected in three Illinois children as of 26 April, 2022; in total there are 11 recorded cases in the States so far, nine by WHO and two by health authorities in North Carolina.
Globally, the majority of cases were reported in the UK. On April 25, 2022, the UK Health Security Agency (UKHSA), said the total number of confirmed cases was 111.
The UKHSA said none of the confirmed cases in under 10s were vaccinated, stating: "There is no link to the coronavirus (COVID-19) vaccine." WHO has also said the vast majority of affected children have not been vaccinated.
UKHSA added the cases predominantly were among under-fives, with initial symptoms of gastroenteritis, followed by the onset of jaundice. The age threshold in the UK for the first and second doses of COVID-19 vaccine is 5 years and over. People aged 16 and over, and some children aged 12 to 15, can also get a booster dose.
Instead, initial investigations into the hepatitis outbreak are pointing to adenovirus as a possible cause. Adenoviruses are a group of viruses that can cause a variety of illnesses such as bronchitis, pneumonia, sore throat, and inflammation of the stomach.
In testing, the UKHSA said adenovirus was the most common pathogen, detected in 75 percent of 53 confirmed cases. Another 16 percent of cases tested positive for COVID-19.
Dr. Meera Chand, Director of Clinical and Emerging Infections at UKHSA, said in a statement emailed to Newsweek: "Information gathered through our investigations increasingly suggests that this rise in sudden onset hepatitis in children is linked to adenovirus infection. However, we are thoroughly investigating other potential causes."
She added that parents and guardians should be alert to the signs of hepatitis (including jaundice) and to contact a healthcare professional if they are concerned.
"Normal hygiene measures such as thorough handwashing (including supervising children) and good thorough respiratory hygiene, help to reduce the spread of many common infections, including adenovirus," Chand said.
"Children experiencing symptoms of a gastrointestinal infection including vomiting and diarrhea should stay at home and not return to school or nursery until 48 hours after the symptoms have stopped."
The WHO has stated that while adenovirus is one likely underlying cause, "it does not fully explain the severity of the clinical picture."
It added: "Factors such as increased susceptibility amongst young children following a lower level of circulation of adenovirus during the COVID-19 pandemic, the potential emergence of a novel adenovirus, as well as SARS-CoV-2 co-infection, need to be further investigated."
So where does the baseless claim about COVID-19 vaccines originate from?
In its article, The Expose quoted research examining the link between COVID-19 vaccines and the liver.
One study, carried out on rats (with concentrations relatively far higher than a typical human dose) found a high concentration of lipid particles from the Pfizer vaccine detected in the liver following injection.
While observations and studies into the long-term effects of various COVID-19 vaccines will continue for some years, health authorities around the world affirm that the WHO-approved COVID-19 vaccines are safe and effective.
False.
There is no evidence of a link between COVID-19 vaccines and hepatitis cases in children. As stated by the UKHSA and WHO, no link between vaccines and hepatitis has been established as the majority of cases are of those who have not been vaccinated. Researchers and scientists say they are still grappling with finding the underlying cause or causes of this spike in cases, although early examinations suggest a type of adenovirus may be involved.
https://vk.com/@702061060-4k-uhd-kgf-chapter-2-2022-yts-torrent-yify-movies
https://vk.com/@cinemarkchinese-kgf-chapter-2-2022full-online-movie-4k-ultra-hd-blu-ray
https://public.flourish.studio/visualisation/9599936/
https://instabio.cc/4042518s6Deut
https://www.portabrace.com/profile/hasbinhabil898/profile
https://www.transathlete.com/profile/hasbinhabil898/profile
https://www.hihonor.com/tr/club/topicdetail/topicid-75123/
https://www.riverside.com.tw/profile/hasbinhabil898/profile
https://tsbvi.instructure.com/courses/19198/pages/shi-dai-ge-ming-~xian-shang-kan-2022-4k-wan-zheng-ban-hd-dot-1080p-zai-xian-guan-kan-he-xia-zai-wan-zheng-dian-ying
https://www.riverside.com.tw/profile/ga4233047/profile
https://www.hihonor.com/tr/club/topicdetail/topicid-76312/
https://www.portabrace.com/profile/ga4233047/profile
https://www.riverside.com.tw/profile/kgf-chapter2-fullmovie4k/profile
https://www.hihonor.com/tr/club/topicdetail/topicid-76346/
https://www.portabrace.com/profile/watch-kgf-chapter-2-2022-streaming-online/profile
https://www.hihonor.com/tr/club/topicdetail/topicid-76352/
https://www.riverside.com.tw/profile/watch-doctor-strange-in-the-multiverse-of-madness2022-online-streaming/profile
https://www.portabrace.com/profile/doctor-strange-in-the-multiverse-of-madness-free-online-streaming/profile
https://www.hihonor.com/tr/club/topicdetail/topicid-76401/
https://www.riverside.com.tw/profile/watch-sonic-the-hedgehog2-online-streaming-free/profile
https://www.portabrace.com/profile/free-kgf-chapter-2-2022-full-movie-free-4k/profile
https://www.riverside.com.tw/profile/kgf-chapter-2-full-movie-watch-online/profile
https://www.hihonor.com/tr/club/topicdetail/topicid-76506/